Have you damaged or scratched your pristine alloy wheels?
Well if you have congratulations, you've come to the right place to get them refurbished.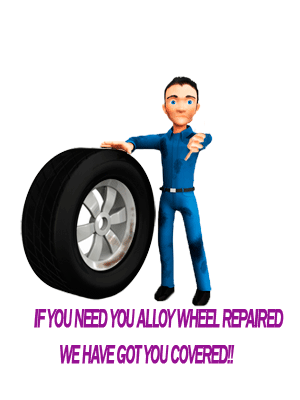 Our technicians can repair your scraped or scratched alloy wheels, at your own home in Birchgrove, South Glamorgan, South Wales. What's more it will take no time at all, usually no more than an hour or couple of hours at most.
LVV Services alloy wheel damage repair system involves using a SMART (Small, Medium, Area Repair Technology) process, it is not only efficient and professional but very cost-effective. Our Repair technicians have many years of experience and we can assure you that on most occasions we are able to restore your damaged alloy wheels to their original beauty.
The great thing about SMART repairs is that it allows us to refurbish and paint minor areas of damage and merge new and old surface finishes, of various types, so that it blends together beautifully. When using the SMART system we can carry out repairs at your home in Birchgrove, South Glamorgan or if more convenient to you at your place of work. We will require a flat service to work and access to a power supply.
One advantage of using SMART repairs is that it permits us to be fully mobile and function without the need for full workshop facilities and we can still return your damaged wheels to their original beauty.
At LVV Services we always endeavor to provide a quick and proficient service especially if you need that accidental scuff to your alloy wheel done in a confidential and timely manner.
The refurbishment system is actually quite straight forward:-
Initially our repair technician will inspect the wheel to ensure that our technique can be used to repair the wheel safely. If is suitable for a SMART repair we will first use a small grinder and remove any ridges or damage to the structure of the wheel.
Once the damage is been cleaned out we will use a specially developed type of epoxy which will fill in any indentations that are there, rebuilding the surface integrity, this will also help strengthen the wheel.
The next step is to smooth out any unevenness and to blend the surface to a flawlessly flat surface, making sure that the alloy wheel is returned to its original material condition.
The final step is to repaint it in its original colour and then we add two coverings of lacquer are applied to protect the finish and make the alloy wheel look like new.
Please note not all types of damage can be repaired with SMART refurbishment techniques because it may not be just cosmetic, it may be structurally impaired and so the wheel may require replacement, our technicians are proficient in evaluating if it is suitable for repair or if it really does need replacing.
Remember when it comes time to sell or exchange your car for a new one, it is very important to have pristine alloy wheels, as it can greatly improve the look of the car. A clean looking well looked after car always boosts the price and hopefully having your alloy wheels refurbished will actually put money back in your pocket.
If you would like to have your alloy wheels back to their original state, with no problems and at a great price, please pick up the phone and give us a call us to make an appointment and we can come along to your home or workplace in Birchgrove, South Glamorgan, South Wales and make your alloy wheels shine again.
Please do not hesitate to Call Us on:
o7792 320692


You Can Scan the above QR Code with your Mobile Phone to Call Us
and ask how we can be of service to you in .