Mobile Car Alloy Wheel Repairs and , High Quality Alloy Repairs at Competitive Prices
Kerbed, Scratched or Scraped Your Alloy Wheels?
We provide A Fully Mobile Alloy Wheel Repair Service at Affordable Prices In Tonypandy – Glamorgan – South Wales.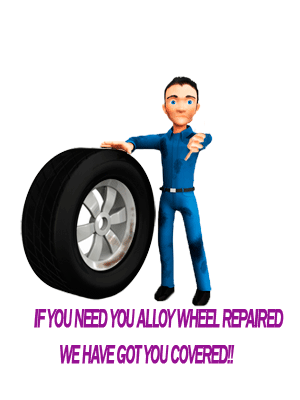 We can complete maintenance and repairs to many kinds of Car Alloy Wheel Refurbishment on a mobile basis and for the repair works that are not suitable we can provide aid and guidance.
We can fix Kerb damage, Scrapes, Scratches, Chips, Corrosion, Lacquer peel and if we cannot fix it ourselves we can commonly organize maintenance and repairs on your behalf with our trusted contacts within the motor trade.
Why pick a repair over replacement of your wheels
The Average expense to change an alloy with a like for like manufacturer replacement is anything from £100 each, to as much as £1000's in some professional cases such as Porsche, Bentley and so on.
Our Repairs Start at £50 per Wheel so you can see the benefit!
Most of the times the original damage will be totally undetected.
As we like to say our finest work goes Un- seen
How We Do It:
Firstly we prep the wheel of your car, and mask the edge of the wheel to ensure good paint coverage without overspray.
We DA sand the damage and fill excess with a flexible gel filler, to ensure damage is undetectable.
We then mask out the Tyre and valve to ensure paint is only applied to the areas it should be and apply primer to the repair area.
After flatting the primer to ensure its smooth and ensuring the surface is ready to paint, we apply a basecoat to match existing colour.
Once paint has cured we apply 3 coats of clear coat lacquer to bring a lovely gloss shine to the wheel, cure the lacquer and de mask the tyre.
Call us Now for A FREE Quote 07792 320692
Alloy wheel repair service Swansea – has actually redefined the standard wheel refurbishment and customisation service having constructed a track record offering excellent levels of consumer care, quality and toughness now boasting Wales leading alloy wheel repair and maintenance and repair experts, committed to changing your worn and damaged wheels you'll now be proud to show on your make over car.
We have a group of experienced specialists providing a mobile service covering Swansea and the area our mobile repair work and restoration van is designed and equipped to recondition or customise your wheels to manufacturing facility finished condition, serving both trade and private clients from Newport to Swansea offering an exact same day service where possible.
Alloy wheel repair Swansea has actually built a track record for quality with these extra services and products offered:
Mobile service, Same Day Service, Bumper repair work and small dings and dents likewise got rid of each of our maintenance and repair technicians has over 20 years of experience in the Smart maintenance and repair market.
If you drive a Fiesta or Ferrari, Beatle or Bentley Tonypandy, Glamorgan, South Walesyour wheels will be reconditioned or customised to the same demanding standards, however don't take my word for it, read through some of the reviews on my web page and if you still not convinced just give us a call for assistance and guidance we are always pleased to assist and discuss your requirements and the options available.
Please do not hesitate to give us a Call on:
o7792 320692

You Can Scan the above QR Code with your Mobile Phone to Call Us
and ask how we can be of service to you in .